When creating a press release, sometimes you need to enrich it with a few files.
Thanks to Prowly, journalists, bloggers and influencers are able to download all important materials straight from a piece of your content. Here's how to attach them.
Step by Step:
Enter the Brand Journals module and edit a press release by clicking on the pencil icon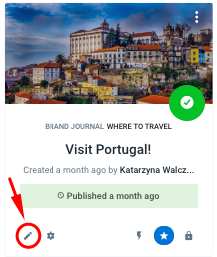 2. In Story Creator choose Attachments by clicking the paperclip icon on the left menu

3. Select the Add attachments option and load files from your hard drive


Attached files will be displayed at the very bottom of your press release. Media representatives will be able to download them all.
Types and formats of files attachable to a press release:
images: jpg, jpeg, png, svg, tif, tiff
presentations: ppt, pptx, odp
documents: doc, docx, odt, rtf, txt, pdf
spreadsheets: xls, xlsx, ods