Brand Journal is your online communication center. This is where you can publish your press releases, investor bulletins, articles, interviews or blog posts and share your social media activities. Each one is also equipped with Press Kit, where you can store media materials arranged in practical folders.
Configuring Brand Journal for the first time:
The application automatically creates Brand Journal with basic functions during the registration process, so your press room is available on your account from the very beginning. Choose the Brand Journals menu on the left navigation panel and click the Settings option with the gear icon to precisely configure it: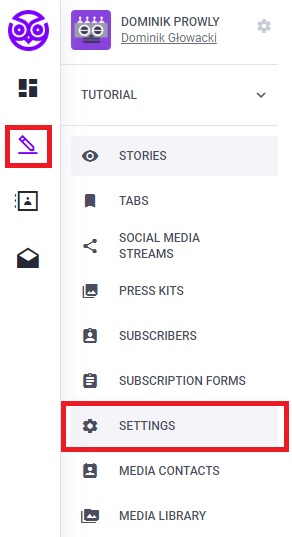 In the opened window, you will find key settings related to the design of your press room. You can personalize them accordingly to the visual identification of your product or brand.
Design - Logo - upload logo or symbol recognizable in your community, which will be visible in the top left corner of Brand Journal
Design - Background - upload image which will appear on the press room homepage, if you don't decide to add any press release to the slider. We call it a background graphic, as it visually covers welcome message of your Brand Journal like here: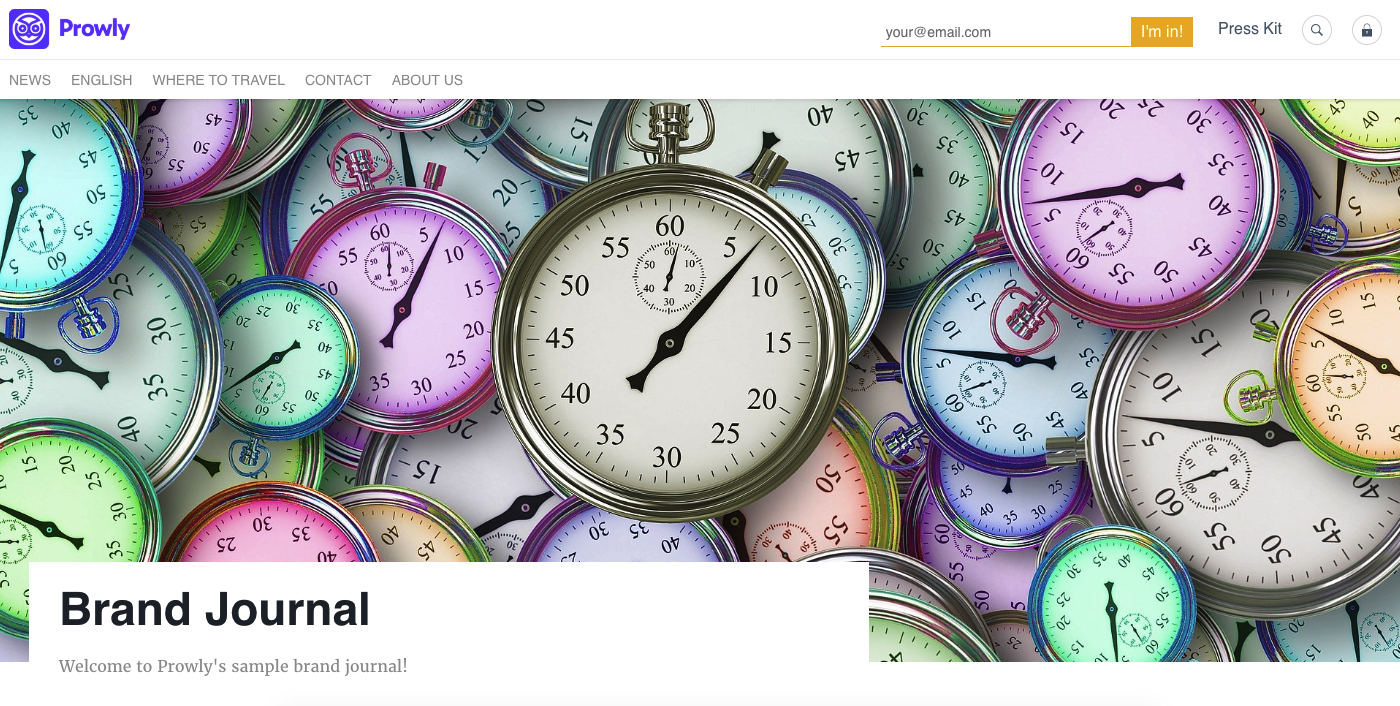 Design - Theme Color - copy HEX value or enter it manually to choose the major color of your Brand Journal. It will be displayed in every tile and tab
Design - Favicon - upload icon for browser tab of your press room, preferably in 32x32 px format



Basics - Brand Journal title - set a name for your pressroom:
visible along with welcome greetings on Brand Journal homepage, if you don't add any press release to the slider
visible in the browser tab, if you don't change the title for the browser in the SEO section
displayed over a description of the Brand Journal at the bottom of its homepage
Basics - Language - choose interface language of Brand Journal
Basic - Homepage Greetings - welcome readers of your press releases with a specific phrase. Greetings will occur on the homepage of the Brand Journal under its title if you don't add any information to the slider
Basics - Footer section - describe the mission of your company along with the purpose of the Brand Journal. Add a link to your company website in order to increase traffic. This description will be displayed at the very bottom of the press room
Address - - set your URL address for the Brand Journal based on a Prowly.com subdomain, e.g. yourcompanyname.prowly.com
Address - - redirect your press room to your own domain (like yourcompanyname.com) or subdomain (like press.yourcompanyname.com) after correct configuration of redirecting value at your domain provider dashboard
Warning: this function is available only in Pro and Premium plans. If you don't see it, but want to redirect press room to your own domain, please contact us via chat or email: support@prowly.com
SEO - Title for search engines - implement text which will be displayed on the browser tab of Brand Journal and search results in Google, like here:

SEO - Keywords - add the most important terms separated with commas, describing the content of the press room, in order to increase its exposure on Google
SEO - Description for search engines - add your Brand Journal description, which will be displayed below its title on Google, like this:



SEO - Google Analytics Tracking ID - ID from your Google Analytics account copied here will allow you to verify your Brand Journal performance
Custom Integrations - Integration script: (HEAD) - integrate different tools to improve the reader experience in your Brand Journal, configure chats for press and clients or advanced forms of lead generation. Copy scripts for desired integrations in this field and they will appear in the <HEAD> section

Custom Integrations - Integration script: (BODY) - similarly, you can integrate tools that you use on a daily basis in the <BODY> section of your press room
Privacy Policy, Cookies Policy - complete these forms with sentences universally accepted in your organization. You can also link sites where policies are more precisely described
- add an informative clause related to personal data processing for users visiting your Brand Journal. Find more valuable tips in our Help Center.
Unsubscribe form - add a custom form allowing subscribers to unfollow your newsletter
Save settings when your configuration is ready. Now you can start publishing amazing content in your Brand Journal on a regular basis. If you want to see a preview of the press room, click the Open Preview option in Actions section on the left navigation menu: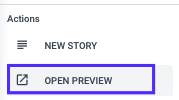 If you already have a Brand Journal but want to add one more:
When the amount of created press rooms reaches your account limit and you need more, please contact us directly via chat or email: support@prowly.com

If your resources are sufficient, enter the Brand Journals module on the left navigation menu and choose Create A Brand Journal from the Actions section: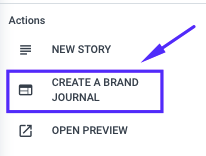 After the initial configuration of the Brand Journal settings, you will be able to find it in the drop-down list next to all previously created press rooms: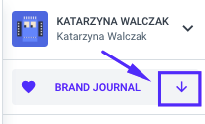 Check more guides:
TABS in your press room
PRESS KIT - downloadable media package for your journalists