To create a mailing, go to the Pitch module located in the left navigation bar:
Choose New Mailing from the Actions section: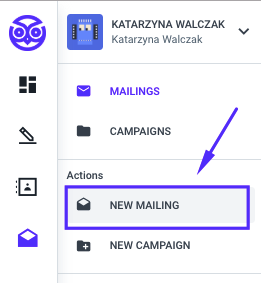 2. Window with mailing creator will populate: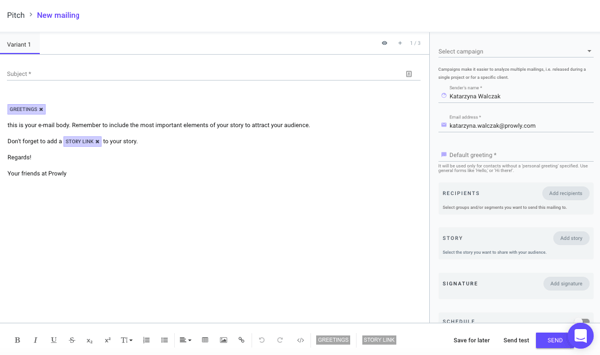 3. On the left side, enter your email subject and fill the content of the message
During email execution do not delete purple fields for Greetings and Story link - they attach your personal greeting and link to the press release. Though, we recommend choosing the best possible place in your message by clicking it or marking text and then pressing purple formula at the bottom of the email creator. When content is ready, configure mailing settings before making a distribution.
Mailing configuration
Select campaign:
Mailings can be aggregated in campaigns. They simplify the analysis of mailings created within concrete projects, executed for particular clients or distributed in specified timeframes. Nonetheless, adding mailing to the campaign is optional.
Sender's name:
Introduce who is standing behind the mailing and provide his email address, as a person who practically creates a message is not necessarily the same one who speaks in the content. All answers will arrive in the indicated mailbox.
Default greeting:
Phrase added to this field will populate at the beginning of emails sent to contacts without defined greeting. Use general salutations like "Hey!" or "Good morning".
Recipients:
Click Add recipients button and choose your Audience. Add groups and segments which will receive your mailing. Contacts being part of various groups simultaneously won't receive mailing more than once.
Story
Add press release published in your Brand Journal by clicking Add story button. Choose content and submit it with Add button. You can also embed it in mailing, transfer all attachments from a press release or provide a text that will replace URL address. Call users to action with engaging "Read more" or "See whole story".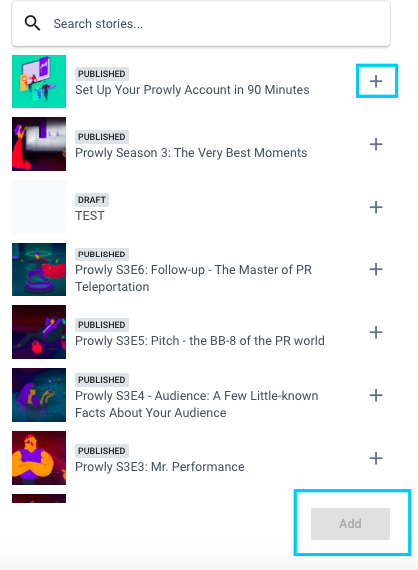 Warning: if you will add unreleased content, it will go public in your Brand Journal straightaway after making a distribution.
Signature:
Finally, add email footer. Once prepared and saved, it will be constantly available. You can also prepare a few different signatures and use them as needed.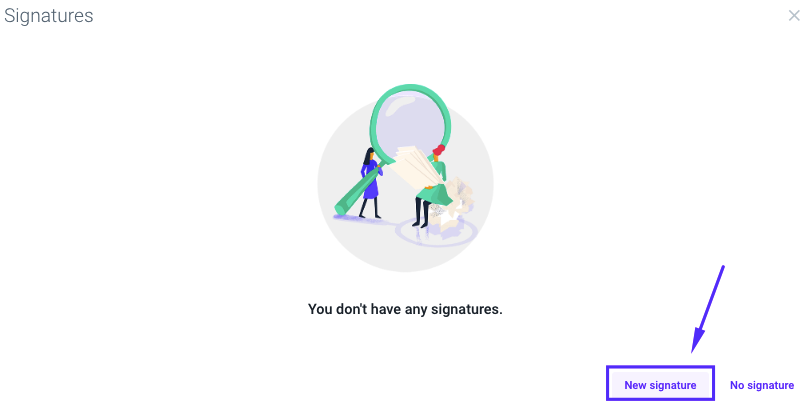 Defining recipients, custom greetings and data about the sender is obligatory before making email distribution.
Firstly, test your mailing
Use the Send test option to verify how your message looks like when arriving in someone's mailbox. The test message will be sent always to the logged user.

Save draft
When your message is already tested, you can save it as a draft for future distribution. Press Save for later button and then, go to Pitch module and Mailings option to find it.

Schedule distribution
Date distribution of created mailing for any day, hour and timezone by clicking slide on the right corner of email creator.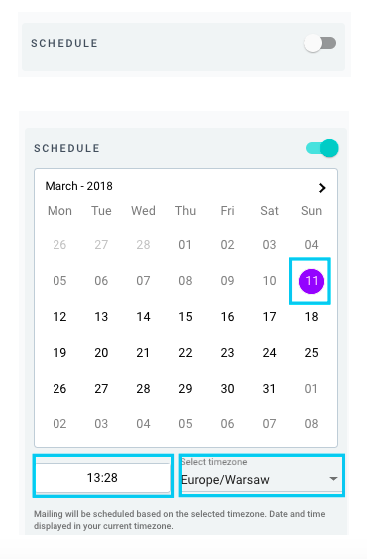 Accept settings with Schedule button, so your mailing will save in calendar. You will be automatically navigated to the list of created mailings, where all Drafts can be found by corresponding filter:

Sending emails
If you tested your message, everything is fine with its structure and you want to send it straightaway, click Send button and Confirm activity in the pop-up window: