In order to create a new press release, select your newsroom under Newsroom and then click Create press release: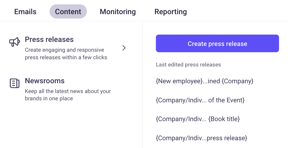 Then, you can choose how to start working on your press release:
Start from scratch and write your press release with Prowly's Creator.
Upload a DOCX file which you'll be able to adjust in the Creator.
Select one of our predefined templates as your starting point.
No matter which option you choose, you'll still be able to modify and add new text in Prowly's Press Release Creator before you hit Publish.
Press Release Creator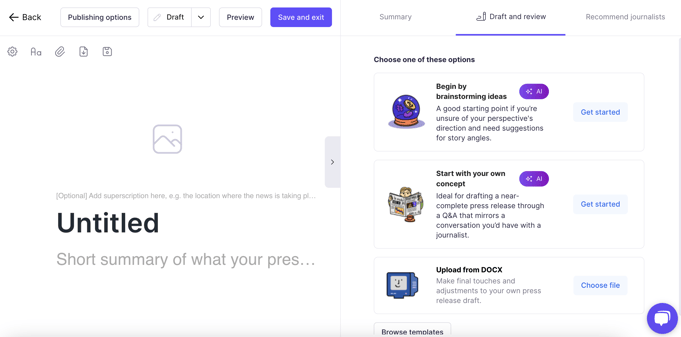 At the top of the menu, you've got a Preview option that helps to check what a press release will look like after publishing, as well as a Save button:

Your press releases are automatically saved in Prowly anytime you make a significant change.
Below these options, you can find all crucial features of the Press Release Creator:
Publication Status - change your press release status accordingly to your current progress by picking Draft, Ready, Schedule, or Published
Settings - including configuration options, thumbnail view, sharing settings, and SEO options
Fonts - change the typeface to serif or sans-serif in the title, subheadings, and all press release paragraphs
Attachments - add any files like documents and images to your press release (available formats: jpg, jpeg, png, svg, tif, tiff, ai, ppt, pptx, odp, doc, docx, odt, rtf, txt, pdf, xls, xlsx, ods, mobi, epub)
PR Outreach - find media contacts that are interested in topics you have covered in the press release
Newsroom & tab - select newsroom and tab your press release should be published in
Pin to homepage - pin your press release to the newsroom homepage, to make it visible there rather than in the selected tab only
Add to slider - highlight a press release on the newsroom slider to attract reader attention and get more views
Download - save prepared press release on your computer in PDF or DOCX format
Save & exit - save your work for later editing or sharing