You can check the performance of your send-out after you click on mailing's title. To find a list of your mailings go to Pitch and click on Mailings: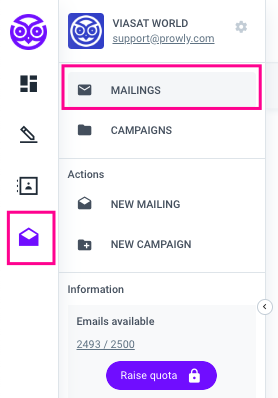 After clicking on the mailing's title you can see a dashboard which presents the data regarding your send-out. In the first section you see Summary:

mailing subject
sender
a piece of texts
amount of recipients
campaign
audience: which groups or segments were receivers of the mailing
Prowly ID
date of send out
date of creation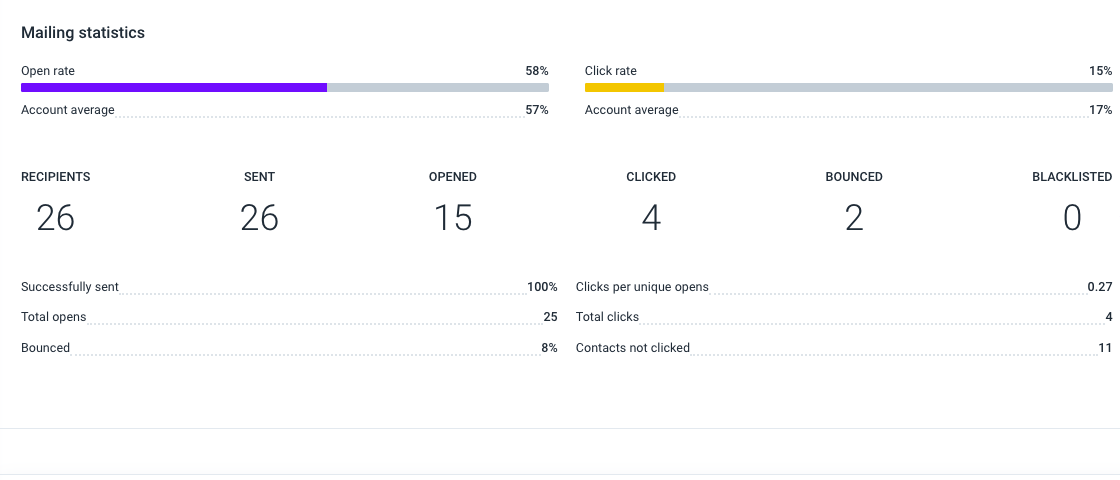 open rate and account average open rate
amount of recipients
sent emails
amount of opened mails
amount of clicked
amount of bounced
successfully delivered (%)
total opens (including not unique opens)
bounce rate (%)
click per unique opens
total clicks (including not unique clicks)
contacts which did not click in the link

This section demonstrates the progress of follow up tasks created. A follow-up task can be added manually to contact. In this 24h performance chart, you can see how was the opens and clicks activities spread through time.



The last part of the statistics view is the A/B testing results. If there was no A/B testing then you can see here the results and basic data of your mailing - open rate, click rate and subject preview text and amount of recipients.
Check the performance of each of the subscribers
The above-mentioned data give you insight about the whole mailing for example amount of clicks, to be able to dive deeper into data and see which contacts have clicked, you need to click on Detailed statistics button located here:



After clicking on the button you will see a list of the subscribers (meaning the contacts which were on the list to send the mailing). Each of them has an icon stating what activities they have performed:

the exclamation marks indicate that the contact has bounced
the eye means the mail was opened
the mouse icon means it was clicked
you also see the date and time of the last activity
and also contacts that are blacklisted - the mailing hasn't even been sent to them
If you would like to sort the contacts and see for example only the ones which have bounced then use the filters located here on the top bar:

How much time do I need to wait for mailing statistics?
Statistics will appear two hours after mailing distribution. They will change in the real-time along with Open Rate and clicks made on your press release.