Through tagging contacts, you help yourself in keeping your contact list "clean" and easy to group and navigate. If you want to add a tag to some journalists, follow these short instructions:
1. Choose the My Contacts option on the left navigation menu
2. Find journalists you want to tag, for example with the help of the search bar
3. Select them and then click the Add tags button located over your database
4. In the Add tag window, check existing tags that should indicate selected contacts or create a new tag



Under the More actions button, located next to the Add tags button, you can find the Remove tags option. It deletes tags from chosen contacts but does not delete tags permanently from your database.
Verify tags
You can verify a particular contact's details on his dedicated card. Find a journalist in your database, click on the name, and scroll all the way down to the Tag section. Here you can both select new tags and remove old ones with the X icon.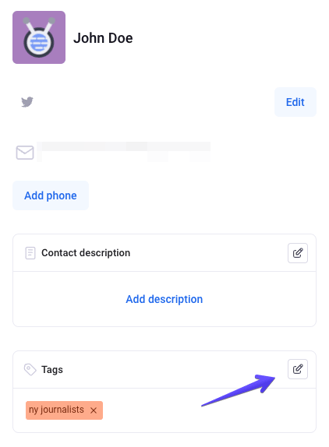 Set and change color labels
Besides editing tag names and colors, you can also set the label for particular colors. Go to the Tags option in the left navigation menu of your contacts database and observe that all tags are listed in the Name column. After setting labels for particular colors, they will appear in the column called Color:



Above the tags database, you can find the Edit Colors button, which will allow you to change labels for all colors available in Prowly: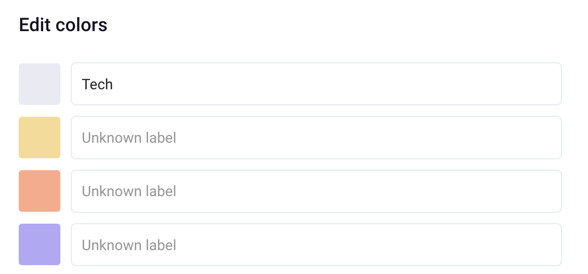 Merge different tags
What about merging different tags into one? Just follow these short instructions:



Go to the Contacts tab and choose the Tags option on the left navigation menu
Check the tags you want to merge by clicking the boxes next to their names
(name of the first chosen tag will become the name of the new tag)
Then, click the Merge button located above the table
In the field, provide the number of tags you are going to merge
Confirm the action with the Merge button
All selected tags are now merged under one tag. You can find and edit the tag name with the pencil icon located on the right side of the table if the current name does not ideally reflect the actual scope of contacts.
If you have any questions related to tag management in Prowly, don't hesitate to contact our team via chat.