With Prowly you are sure that all press releases published in Brand Journal are SEO-friendly and can be easily found in search engines. Optimize your content with the newest functions of our Story Creator:
Where can I find SEO settings?
Enter Brand Journals tool that accumulates your content. Every press release is visible on the board in the form of a tile. SEO settings can be found in two places:
Click gear icon on the left-bottom corner of the tile:

2. Or enter press release and from the level of Story Creator click the gear icon available on the left navigation bar
3. In press release settings choose the SEO tab:

SEO - types of settings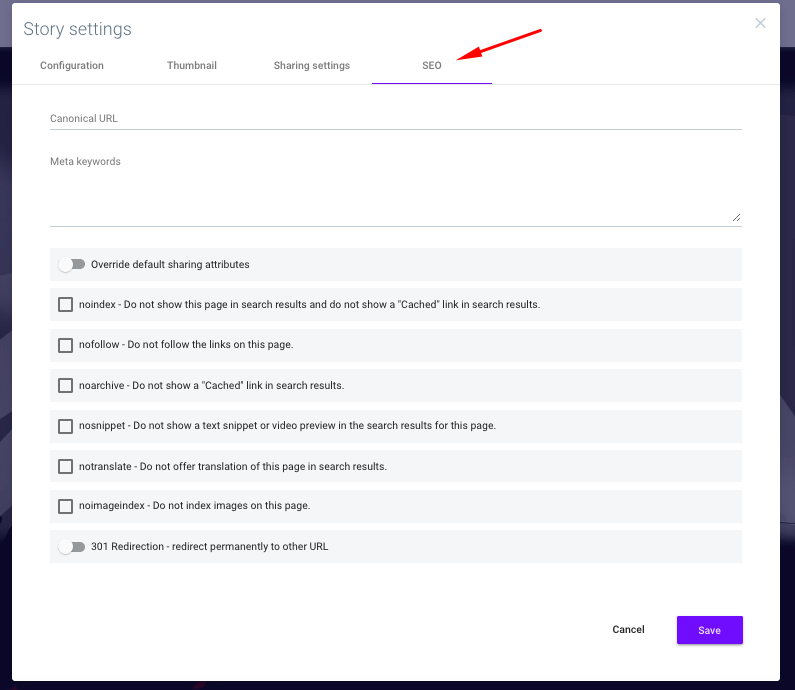 Canonical URL
Each content created in Prowly has its own URL, i.e. a link that directs to the webpage with the content. It is visited not only by the ordinary people but also by Google robots which collect various information about your site. They determine the position of your site in the Google search engine, depending on many factors - positive and negative.
A positive factor for positioning content is, for example, using keywords. An example of a negative factor lowering the position of a website is the so-called duplicate content, i.e. the same content under different URLs.
You can deal with this problem by setting the Canonical URL for your press release that somehow copies a content already available on another subdomain. How to do this? Paste URL to a/m subdomain in Canonical URL field, so Google robots will ignore the existing address of your new content and save the one you designate as canonical.

Pro tip: canonical URL should be in the same domain and contain the full URL, along with HTTP / HTTPS. If you use 301 redirection for a given address, you no longer need to set canonical.
Meta data
Meta keywords do not currently play such a significant role as they did recently, but you can define here keywords or key phrases that relate to your content. In the section with meta data in Prowly you will also find such a slider:

After turning it on, you can edit the meta title and meta description, too. What you will write in these fields will be also visible for example in Google's results:

The idea is to share a summary of a press release, so people before clicking the link in the search engine will understand what is your content about. Meta keywords from the title and description must be relevant, avoid duplicating texts from other articles.
Important! Meta data won't be seen in the content of your press release, it is hidden in the page code.
No index
When you check the box, Google Robots will go through your website, but they will not collect information about its content for positioning purposes. In other words, it will be ignored, so if you desire to be at the top of search engines, omit this option.
No follow
Google Robots won't check links published in the press release.
No archive
The content of the link will not be stored by the browser (so-called browser cache), that means it won't occur in propositions of search results. Every time your link will be shown among them, Google will refresh it and load from scratch.
No snippet
When active, no snippet, images or videos from your content will be displayed next to the shared link of your press release.
No translate
If your content appears in the search results, no translation of these results will be offered.
No image index
When active, images placed in your press release won't be indexed.
301 redirection - what type of redirection is this?
As you know, your content has its own unique internet address. With the help of redirection, your visitors can be transferred from your content to a different address. If address A is redirected to address B, then by going to the page with the address "A" you end up on page "B". Importantly, the target web address is taken into account when positioning your site in the search results.