Organize your contact information to be able to build and foster media relationships
Even though the email address is the only obligatory field in Prowly's PR CRM, it's worth adding more information on each and every one of your contacts to make press contact management easier.
Here's what details you can store in My contacts:
First name
Last name
Email address
Phone number
Links to social media profiles
Contact description
Role
Outlet (+ Outlet link)
Greeting
Languages
Country/State/City
Address/Zipcode
Timezone
Media Type
Covered topics
Relevant tags
Media lists it belongs to
Notes
Exchanged emails
Calls
Events and meetings
Your reminders regarding the contact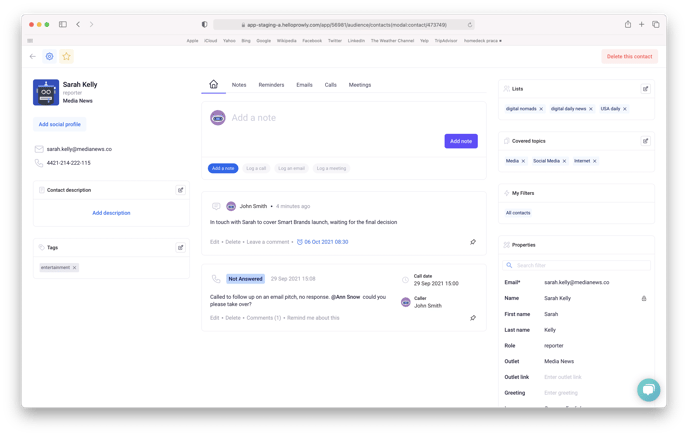 Be smart about the details you keep! Apart from general contact details and the media outlets they represent, you can write down important events, birthdays, hobbies, or anything of interest that comes up when talking to your media contacts. This will help you pitch with relevance and build better relationships in the long run.