Apart from the classic, plain-text message with a link to your press release, you can embed an entire press release you've created in Prowly (or its summary) into the body of your email.
Simply select the Add press release button located above the email creator and explore your options.

Select your press release from the list and pick the way to insert it to the email: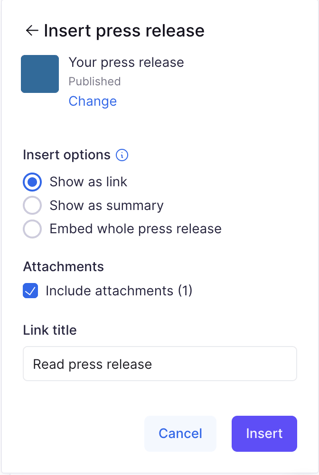 The Show as link option will insert the press release into the email body under the link, which you can name as you like. The Show as a summary option will display a square with the press release's title, lead, and CTA button, allowing you to personalize the copy for all three items. Embed the whole story, however, is an option that allows you to embed a press release in its all glory. Additionally, in all embedding options, you can decide if the email should contain the same attachments as ones added to the online publication.
Note: To keep the Text-to-images ratio high, please consider linking or summarizing rather than fully embedding press releases that contain many images, so spam filters won't block your delivery.