After reading your press release, journalists may want to contact you directly. In order to let them do so, create a card with all the most important contact data about the spokesperson or author of a press release.
How to add or edit an author or spokesperson's business card
Follow this guide if you don't have the card just yet or you'd like to edit it.
Add a spokesperson to a press release
If you already have a card in Spokespeople created, you can add it to your press release:
1. Click the plus icon in Press Release Creator when preparing the press release
2. Select Spokespeople from the list of elements: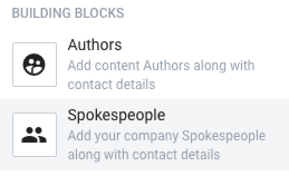 3. Then select the one you want to add to your press release and click the OK button:

The contact card in your press release will look like this when you publish or preview it: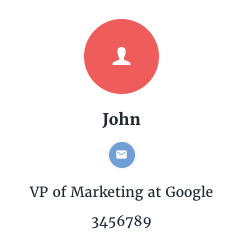 How to add an Author to your press release
After you create all business cards for media representatives and active editors of your newsroom, you can add them as authors if you wish. You can do it almost the same way as with Spokespeople.
After clicking the plus icon in the Press Release Creator, in the Building Blocks section use the Authors option this time. The first person that you add as an author will be displayed on the published story with the description written by.