Create a dashboard with advanced charts tailored to your needs.
Go to Media Monitoring and open your project. Next, on the Project page, scroll down to the Dashboards section and click New Dashboard. Provide a name for your dashboard and click Create. The dashboard becomes assigned to your project.
The Advanced subscription plan includes unlimited dashboards. The Basic subscription includes only one dashboard.
Open your dashboard
Open your dashboard to start adding charts to it. You can find it under your project in the Dashboards section or under Dashboards top-menu: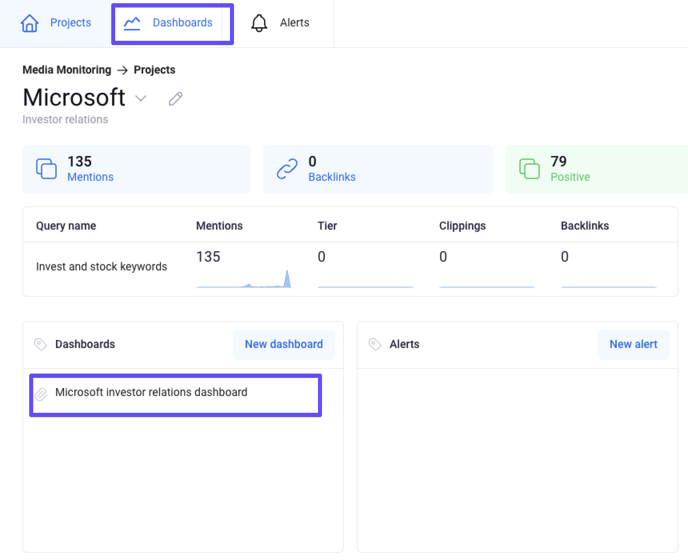 Add widgets with charts
As soon as you open your dashboard, you can start adding charts presenting various metrics. Click the Add new widget button to start adding widgets with charts. You need to start with selecting a widget type and then you'll be able to customise the chart and its data source. There's a number of predefined metrics you can use with a widget. Find out more about widgets in this article.
Dashboard customisation
Widget arrangement and size
If you have some widgets on your dashboard already, you may rearrange and resize them freely. Simply drag and drop widgets to change the location. Similarly, click on a widget edge to resize it (horizontally and vertically):
Date range
By default, a widget will display data according to the date range set during its configuration. However, you can use the date range controls on your dashboard to make all widgets display data according to this setting (widget's default date range will be overwritten):