Widget is an element of a dashboard that you can use to add preferred statistics to have an overview of your PR activities.
Your dashboard can be filled with multiple widgets presenting numerous metrics on various kinds of charts. First of all, when you click the Add new widget button on your dashboard, you'll need to start with widget type selection. Widgets are based on various mention properties. For every mention we gather a lot of useful data such as sentiment, article reach, or domain authority score. There are several widget types available.
Widget types
Number of mentions
This metric presents a total number of articles found by a search query.
Advertising Value Equivalency (AVE)
AVE is one of the most widely used metrics in PR. It's an estimate of how much you'd need to spend on ads to have the current coverage. It, essentially, tells us how effective our PR activities are. The calculation is based on Mention estimated reach and a price attributed to a viewer. Our default calculation formula is as follows:
AVE = Mention estimated reach x 0.37 USD
You can customise the formula by providing your own price per viewer and currency.
Sentiment
This metric focuses on article sentiment that's extracted by Prowly for each article. You can use it to see how, generally, your coverage is presented by the media in terms of sentiment. Sentiment can be positive, neutral, negative or unknown.
Mention backlinks
The metric presents a total number of backlinks found in all articles under a specific search query. The backlink itself can be set when creating a search query (field target URL).
Domain reach
Domain reach tells us how popular the domain is (in terms of visits) where I found my mention. The reach is calculated by our partner Semrush.
Mention estimated reach
This metric uses the mention estimated reach value which is calculated by an algorithm using the domain reach. It's an estimate of how many views the articles could have had given how many views the domain has overall.
Share of voice (SOV)
This metric allows you to make competitor analysis. You'll be able to see how often a certain keyword or phrase appears in the context of your competitors. You can select several search queries to display on a chart.
Domain rank
Widget based on the domain rank mention property. You can read more about it here.
Domain authority score
Widget based on the authority score mention property. You can read more about it here.
Custom widget
Use this widget to add a custom metric you may need to keep an eye on. This is a static value that doesn't change unless modified manually by a Prowly user.
Widget customization
Having selected the metric, you can proceed to widget customization. Give it a name, select a data source to display the data on a chart and, finally, pick a chart type.
Widget name
The name will be visible on your dashboard.

Chart type
There are several types of charts you can pick from to present your data the way that works for you best:
Number
Line
Bar
Donut
Area
Column
Data range
Available data ranges for your charts are:
Today
Yesterday
Last 7 days
Last 30 days
Last 3 months
Last 6 months
Last 12 months
Custom range
Filter results
This feature allows you to add another layer of filtering to a search query selected as a data source. You can have a search query that doesn't have any filters and it just looks for all mentions that include your brand. The filter by feature in a widget allows you to build, for example, separate widgets per mention language. You can read more about filters in this article.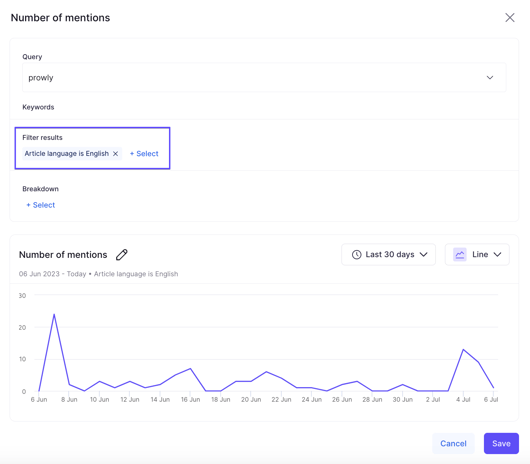 Adding language filtering to the widget
Breakdown
Use this feature to distinguish mention properties on the chart. For example, there may be many mentions found by your search query, but they may be originating from several English-speaking countries. Use the break down by feature to see how many mentions there are per country.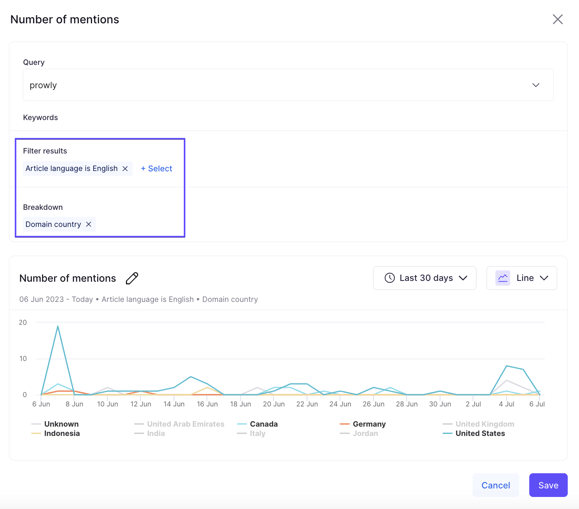 Number of mentions written in English only and broken down by the country of origin
Click Save to add it to your dashboard.