Brand settings give you a way to set some defaults for all reports under your brand
In order to access brand settings, go to Reporting > Brands and click on the gear icon right next to the name of your brand: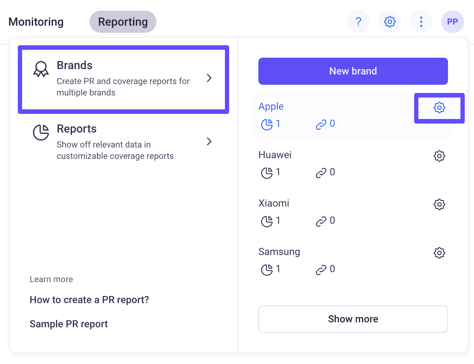 You can also click on a brand name to access the brand space and then click on the button Brand settings with the gear icon (top-right corner).
There are several sections under Brand settings.
Brand information
This section holds the basic configuration for your brand, like name, useful to be able to keep your reports organized if you work with multiple clients. You can also fill in the website URL field that will be used by our algorithms to check if there are any backlinks in your coverage clippings that include this URL.
Reports customization
This section gives you a way to upload two logos (i.e. yours and your clients) that are going to be automatically inserted into new reports that you make under this brand.
Clippings data settings
This section allows you to switch on or off visible AVE (Ad Value Equivalency) data. The changes you make to the AVE (including whether you would like it to be shown or not) will only be reflected in new reports.
You also have the option to rename data labels such as "Monthly Traffic" or "Sentiment". If you rename them, you won't be able to see tooltips with metric descriptions. The changes will only be reflected in new reports.
Access rights
By default, all new brands are private, meaning only the creator of the brand and other users of your Prowly account with roles owner and admin will see it and can edit it. You can invite other users of your Prowly account by granting them a specific access level. You can select:
View only
View & edit
All access - user can edit and delete reports
You can read more on how to invite new users to your Prowly account in this article.
If you want all of the users of your Prowly account to see the brand and reports under it, click to toggle the private setting off.