When you are configuring your email, please be informed that we have activated GDPR-related Pitch protection. As soon as you choose recipients of your email, an additional element of configuration will appear: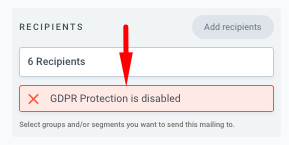 What does it mean?
The email will be sent out regardless of the fact of having consent for personal data protection marked in Prowly. Of course, you may not need this setting at all, so then just switch off the protection.
Where can I define, if I have the consent or not?
You can mark it in Prowly that you have the consent for personal data processing in each contact's details card. You can also do it in bulk in the Audience main view by using mass actions.
What happens after I click in the warning banner?
After you click on the red banner, you will see a pop up with additional configuration. Then you decide if you want to send out the email only to those of your contacts who have the consent for personal data processing marked (Yes) or just skip this step and send out to all of the recipients not taking into account the consent settings (No).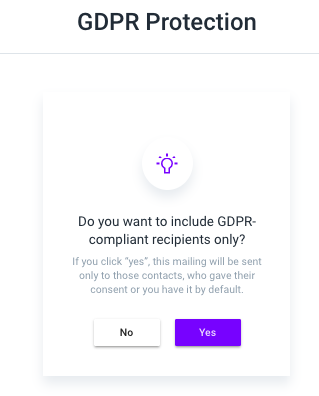 Warning
By default, all of your contacts in Audience database don't have the consent (according to privacy by default rule). You can change it by switching the status of consent to acquired.