When logged in to Prowly, you see the navigation menu at the top of the screen. The leftmost bar lists the major features of the application, while the right one helps to manage your account and profile settings.
Settings
The main settings are located under the cogwheel icon: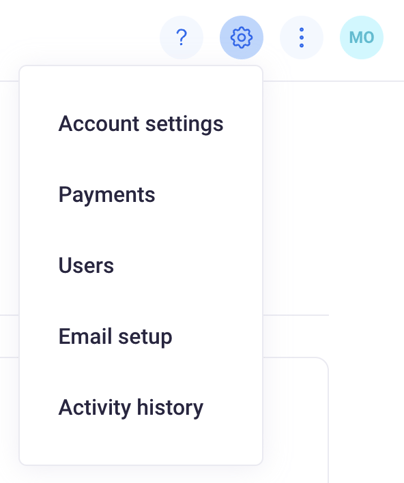 Options located in the Settings depend on the role performed by the user in the application, as well as actions that they are able to execute. You can learn more about the roles in this article. Owners and Admins can change not only their profiles, but also the profiles of other users and the settings of the whole account.
Account settings
Account information - Change basic information, i.e. account and company name, country and city.
Date&Time Settings - Change the time zone you are located in.
Payments
Payment details - Check your subscription plan, amount and resources.
Payment method - See the current payment methods and change them.
Billing address - Modify the address of the company visible on every invoice.
Billing contact - Change the email address and telephone number related to your billing.
Billing history - All payments made in the past. As the account owner, you will see the 10 most recent invoices, dates of issue, payment statuses, titles, and sums.
Users
Clicking this option, you will see all users of the account and their roles. You can delete a user if they are not working on a project anymore or invite new users if your resources allow for doing that.
Email Setup
Domain Authentication - Verify your domain to help your recipients' email providers recognize that your messages come from a trusted source.
Whitelabel domains - Authorize Prowly to send emails on your behalf.
Senders addresses - Manage senders that can distribute emails from Prowly to protect your sender reputation and deliver pitches more effectively.
Activity history
This option allows you to see all activity on the account in one place and filter it by users and modules.
Profile avatar
All profile options are located under your avatar, in the right-upper corner of the application: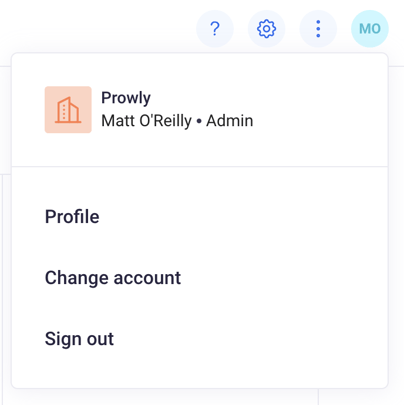 Profile
By clicking on Profile, you can modify your personal information and change options connected with your profile, such as:
Personal details - Change your name, phone number and add an avatar.
Security - Manage your password and additional sign-in options via Semrush.
Email notifications - Adjust your email notifications preferences.
Connected inbox - Connect your personal mailbox to see replies from your contacts in Prowly.
Change account
If you possess multiple accounts on Prowly, you can switch between them freely without the need to log out. Click the Change account option from the drop-down list, and then choose the account you want to open. You can also set a specific account on the list as the default one, so it will open automatically whenever you log in to the Prowly application.