A press kit is a catalog where you can collect text, graphics, video, and audio files. It is dedicated to journalists and influencers working on content related to your company, brand, or product, so the package should contain all of the most important files and materials you would like to make available to journalists.
Your recipients can access your press kits from any subpage in your newsroom, as the link is located in the top-right corner as soon as the user turns on the package in Prowly.

The second place where press kits can be found is at the very bottom of a newsroom homepage, right after the section with social media posts: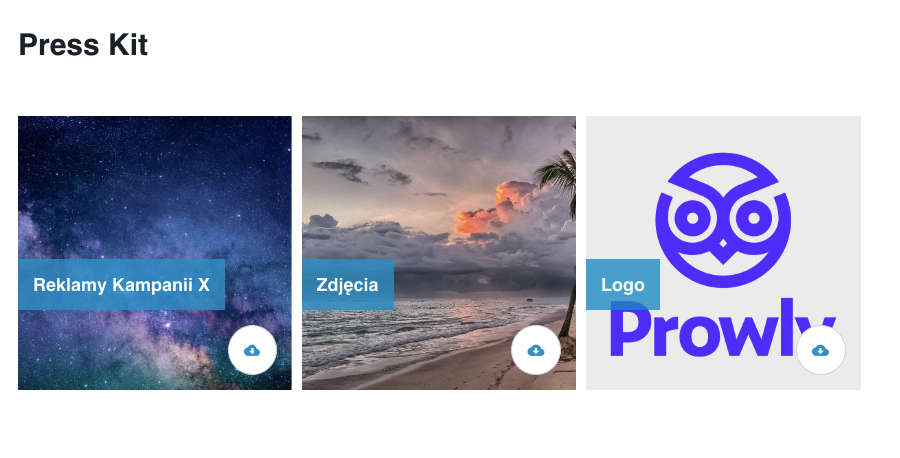 Usually, the package aggregates files that can be used many times, like your company logo, photos of board directors, or the most important press releases from the organization's history. The available file formats are:

aac, flac, mp3, oga, ogg, opus, wav, weba, pdf, doc, docx, xls, xlsx, ppt, odt, ods, rip, rtf, jpg, jpeg, png, tiff
Press kit cover image
The first file in the folder becomes a press kit cover image.
The best solution is to upload an image wider than 960px, as it will show up in the tile in all its glory. Otherwise, the cover will be presented as a plain graphic in the leading color of your press room.
How to add a Press Kit to the Newsroom
Go to Content > Newsrooms
Enter Press Kits on the left navigation menu
Click Add press kit button in order to create a folder
Click Add file in order to add files to your newly created folder
Choose files from your resources and save