After entering the Dashboard, in the submenu you can find the Analytics tab: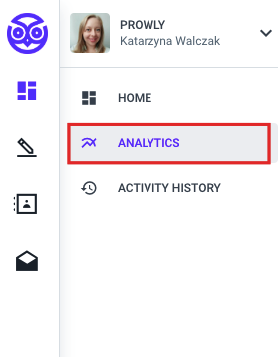 In the view you can see the following elements:
Content traffic report
Traffic sources
Top referring websites
Top stories
Top contacts
Top emails
Audience report
Pitch performance report
Before we go through each of them, keep in mind that all the data will refer to a chosen scope and specific time frame. You can determine the scope by choosing either Account or your brand journal's name from the drop-down menu:

The time frame is determined by the top right corner drop-down list:



Let's see what kind of data waits for you in the Account Performance tab:
Traffic sources
This chart is about the number of visits to your Brand Journal in a chosen time:

What you see below is the amount of visits, views, pages per visit, unique visits (%) and audience clicks. Each piece of data is presented in a way that shows you what the trends are - below you have a % value showing the trends in comparison to the same data in a previous analogical time frame (e.g. if you choose 'last month' and have 91 visits and green arrow up 100% it means that there is a 100% growth in comparison to the month before the last month).
If you are not aware what the indicators actually mean, check out this article, while traffic sources and top referring websites are described here.
Top press releases
Here you can see your best press releases in terms of visits and clicks. The pie chart indicates the trend - when you mouse over the color you will see the data from the previous or current time scope. Beneath the pie chart, you see up to 3 best stories with titles and amount of visits or clicks and, below, up to 3 best stories from the analogical time period before.
Top contacts
This part tells you which contacts from your database are top in terms of clicks and opens of the standouts you create in the Pitch module. In the chart, you can see the exact amount of contacts (vertically CONTACTS) and the click rate (or open rate, if you choose Opens) they achieve (horizontally CLICK RATE). Below you see up to 3 top contacts who click the most with their click rate or open rate within the chosen time scope and analogical time scope before.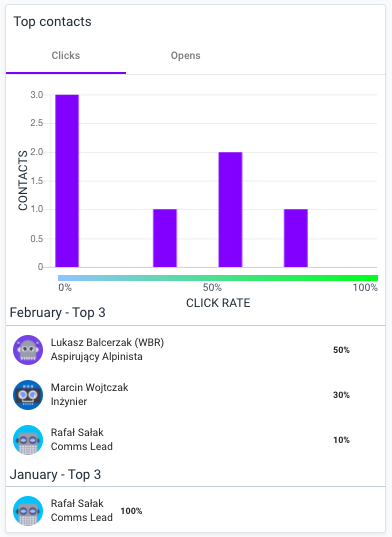 Top emails
If you would like to see the best emails in terms of clicks and opens, check out this section. Here you can see the overall amount of clicks/opens in a pie chart with a comparison to the analogical previous period of time (mouse over to see Current or Previous) and below you can get to know which exact emails were best-performing ones in relation to clicks (or opens) presented in a Click rate and Open rate format.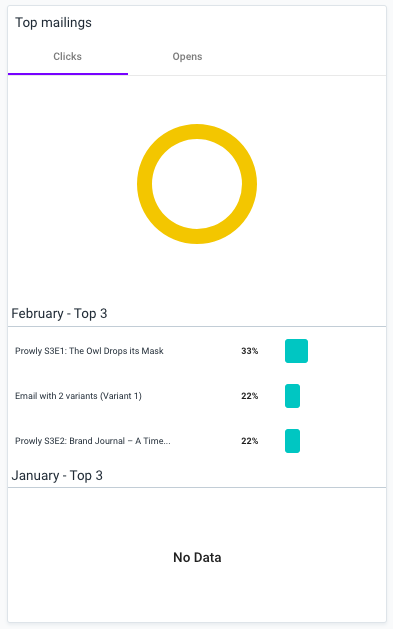 Audience report
Here you can see how your Audience database has been performing within the chosen time frame. Contacts enables you to check the total amount of contacts you have in your database, Added indicates how many contacts you have added to your database, Bounces shows how many of the contacts bounce your emails and Clicks tells you how many of the contacts have clicked in the links you have distributed via Pitch tool (with a split to unique and not unique clicks).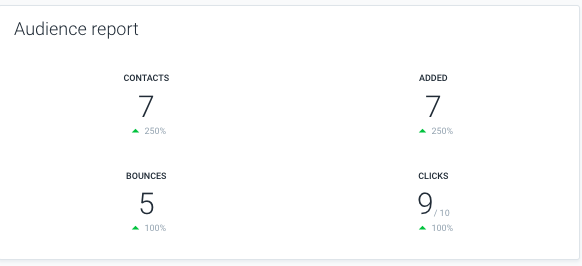 Pitch performance report
This report is where you can familiarize yourself with the number of pitches sent (PITCHES SENT), amount of e-mails sent within those pitches (EMAILS SENT) and amount of opened and clicked e-mails (with a split to unique and not unique actions), as well as and open and click rates (%).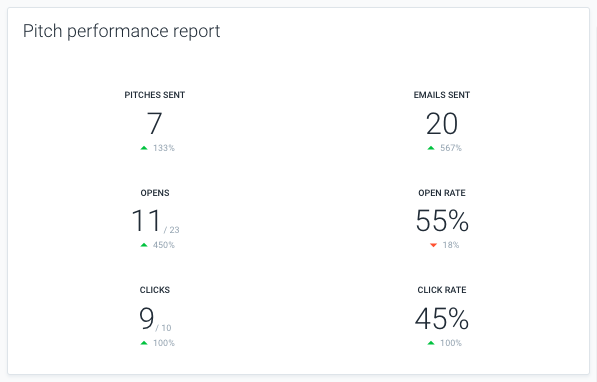 If you're still looking for an answer to your question, go ahead and ping us on the chat in the bottom-right corner. We will be happy to help.