Dive into data and find insights on your PR campaigns, pitches and press releases
Struggling with measuring your PR campaigns? You're not alone. According to Buffer, 82% of PR practitioners don't know how to evaluate the ROI of their PR campaigns. With the right PR tools, however, you can tap into relevant data and analyze the results of your PR efforts.
In this article, you'll learn how to:
Measure the effectiveness of your email pitches
After you've sent your email pitches through Prowly, you can start tracking results—including open rates, click rates, and bounced messages. Just click on your mailing's name from the mailings you can see under Emails.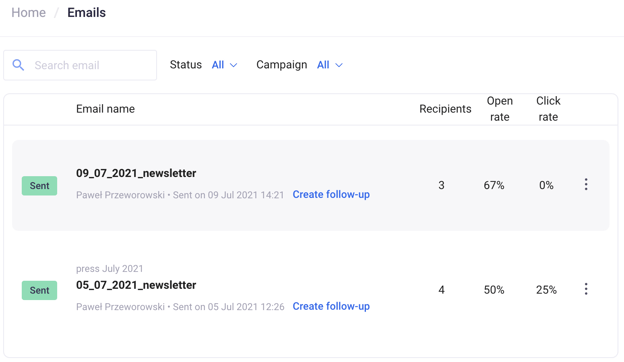 This will take you to Email Analytics: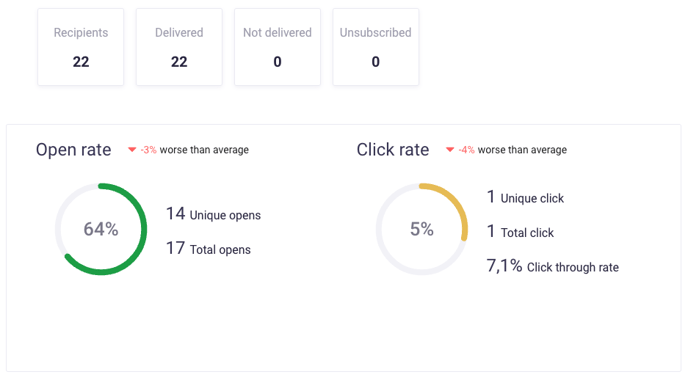 Read more about email statistics in this detailed article.
Track engagement of your contacts
With Prowly, you can also check which contacts from your list are the most engaged, judging by clicks and opens of the pitches you send. Simply navigate to Analytics under the Home tab: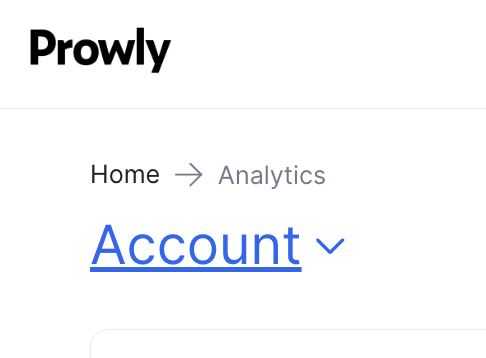 In the chart, you can see the exact number of contacts and the respective click rate (or open rate, if you choose Opens instead). Below you see up to 3 top contacts with the highest click (or open) rates within the chosen time frame.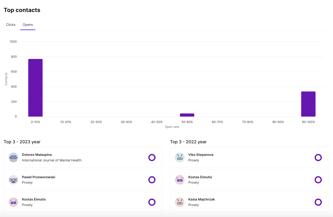 If you rather see the best emails in terms of clicks and opens, check out Top emails. This is where you'll find the overall amount of clicks/opens in comparison with the analogical previous period of time, along with your best-performing emails in terms of click and open rates.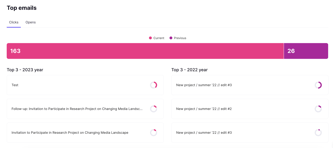 Check how your newsroom is performing
Apart from tracking your email pitches, you can also check how your newsroom is performing in Analytics, under the Home tab. Select your newsroom from the list available next to Account performance: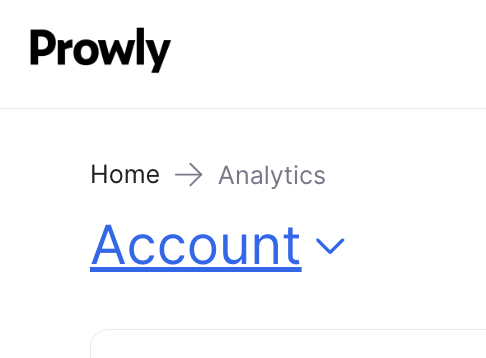 Here's what data you can access:
Content traffic report
Traffic sources
Top referring websites
Top press releases
Before we go through each of them, keep in mind that all the data will refer to a chosen scope and specific time frame. You can determine the scope and time-frame by choosing options from the drop-down menu:

Traffic to your newsroom
This chart shows you the number of visits to your newsroom, views, pages per visits, unique visits (%), and audience clicks - all at the given time:

Here's more about these indicators:
Visits - each time your newsroom is visited from an external source, it is counted as a separate visit
Unique visits - visits of one particular media contact; i.e. if a specific journalist visits your newsroom 3 times over the last 30 days, that counts as 3 visits but 1 unique visit
View - each time a part of your newsroom is viewed (single press releases, press kit, etc.)
You can also check traffic sources, which tells you where your newsroom's visitors get redirected from. Remember that statistics of traffic sources (such as Facebook, Direct, Google) and referring websites count only unique visits.

Top press releases
Here you can see your best press releases in terms of visits and clicks. Beneath the pie chart, you can find your top 3 stories (with their number of visits or clicks) and top 3 stories from the previous time period.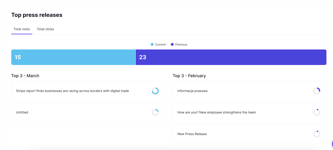 Integrate your newsroom with Google Analytics
To track even more data, you can also integrate your newsroom with Google Analytics. You can find out how to do that in this article.
Analyze your overall PR performance
With all the indicators listed above, you should have a good grasp of your PR performance by now. How about using data found in Prowly to enhance your standard PR reports?
Here's a useful PR report template for you to leverage
The template comes in an Excel file and contains tabs that represent months and the main tab (M2M Summary), which automatically pulls the general activity stats from individual months, broken down by:
Unique visits (to all your content pages within your online newsroom)
Visits by your Audience (unique visits of all your contacts stored in the My contacts module)
Stories created (the number of press releases created and published on your newsroom)
Mailings sent (the number of mailings sent via Prowly)
Average open rate (for your mailings)
Average click rate (for your mailings)
Emails sent (the number of contacts to whom mailings were sent)
Emails opened (the number of contacts who opened your emails)
Emails clicked (the number of contacts who clicked on the links attached to your press materials)
Coverage (the number of publications in the media)
Story of the month (the title of the story which was the most popular in terms of publication)
You will find the above statistics from the first spreadsheet of the discussed document in the form of charts, which will allow you to examine the effects of your activities over time (which is 12 months in this case).
The tabs for reporting activities in specific months can be used to store more detailed statistics (Detailed report section), which will be automatically summed up and included in your general statistics (General report section). Completing the Top media contacts section, on the other hand, will allow you to keep an eye on the contacts who have interacted with you the most in a given month.