Get more details on articles mentioning your brand or product.
If you already have saved a search query in your project, Prowly will be constantly looking for and gathering new mentions for you. In order to see the list of all mentions, go to your project in Media Monitoring.
You should see the latest mentions for all search queries in the panel on the right-hand side. You can click on any to see its details. You can as well click on a query name to see all mentions matching its conditions found so far: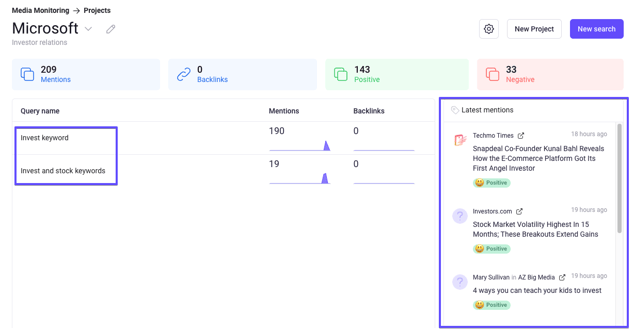 Mention Browser
Whichever way you choose, you'll be taken to the Mention Browser. The Browser will display a list of mentions found under a selected query and let you look into mention details: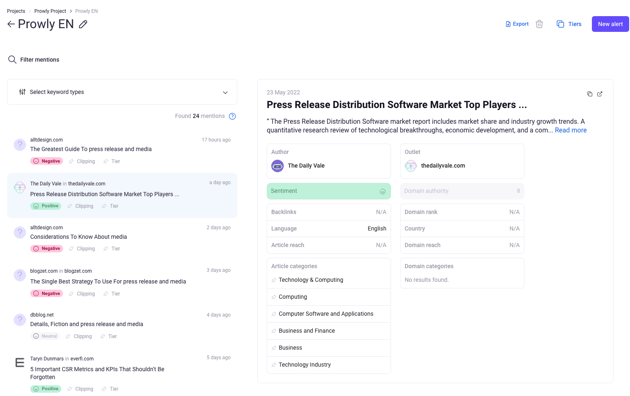 Favourites and tiers
Each mention may be saved as a favourite for future reference. You can also use the Tier feature to classify domains where mentions are published based on importance specific to your needs. You can find mentions marked as favourite and belonging to a specific tier with our filters described below.

Filtering results
You can also filter the search results even further with the filter mentions feature. It will let you filter by date range, all or favourite only, keyword type and other properties listed in this article.

Filtering for favourite mentions
In order to display all mentions marked as favourite, switch from All to Favourite only using the filtering tool: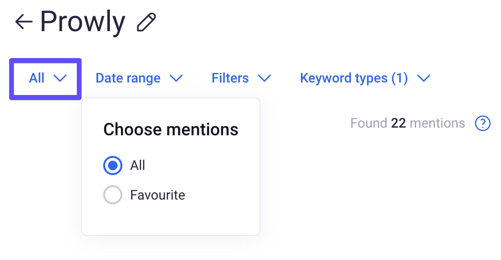 Filtering by keyword type
This filter will let you find mentions that include your keyword used in a specific context. You can use the following keyword types to make the search most accurate:
Person
Organisation
Product
Location
Any - default setting - system will search for all the mentions that contain your keyword or phrase.
For example, using the
Apple
keyword may give you mentions about Apple products and Apple as an organisation. Choose the right type to get the mentions you really need.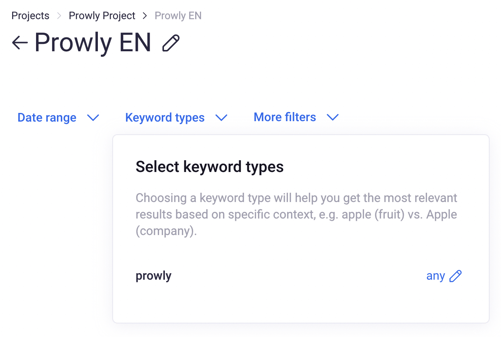 Keyword types work with selected languages only. These include: English, French, Spanish, Russian, German, Polish, Chinese, Japanese, Dutch, Norwegian, Danish and Swedish.

For all the other languages, the keyword type will always be set to any.
Any filters you select here persist in your query. It means that if you select this query as a source of data to your widget, the filters will be automatically applied there as well.
Mention details
Each mention will have plenty of useful information and properties:

The information include the following properties:
Author and outlet
Article categories
Article reach
Backlinks (presence of Target URL)
Country of origin
Domain authority, rank and reach
Language
Sentiment
Source
Export mentions
Use the Export button located in the top-right corner to export mentions you see in the browser. You can read more about it in this article.