If you want to add attachments to your email, go to the second step of email creation, called Write.
Then click the place in the email content where your attachment should be placed and select the icon of a paper page. It is located between the Image and Emoticons icons on the top editing panel. After clicking it, choose files from your desktop that should be implemented in the message.

Attachments can be also added to the email body when embedding a Standalone Story or press release published in the newsroom. If you have attached any files to the article, like screens, you can choose if you want to include them with the embedded press release in the email: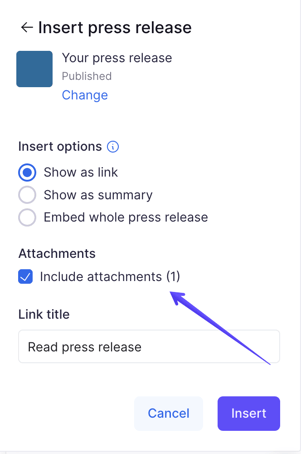 Click the Add press release button

Choose the press release you want to embed
Select embedding format
Check the box next to the Include attachments

option and click

Insert
All attachments can be downloaded by the recipient by clicking the links. They don't function as standard attachments in order to get your message through spam filters.