Build a search query in our Media Monitoring tool to automate the process of collecting mentions of your brand or product from online media.
Go to Media Monitoring and start working with your project. Create one first if you don't have any - Prowly will ask you to do that.
Project is, basically, a folder where you keep all your search queries. It's useful to have separate projects when, for example, you're a PR agency working with multiple clients. In this case, you can keep all search queries of a single client under separate projects.
Then, click the New search query button to launch the builder: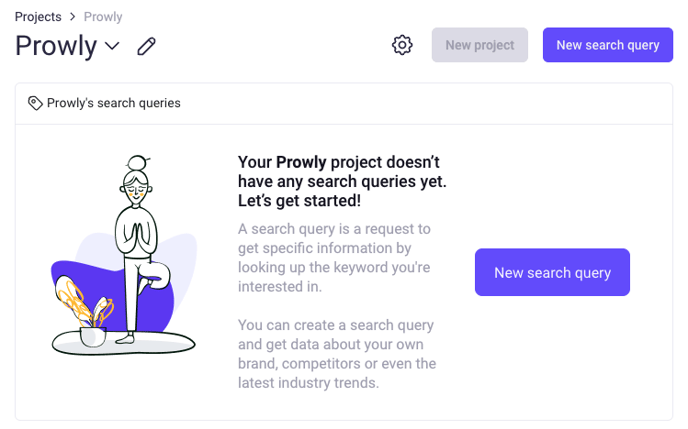 New search
Start with filling in two fields:
Title - required field - name for your search to help you recognise what it is about.
Target URL - optional field - this can be a URL to your landing page, newsroom or website that is included in an article. Fill in this field to tell Prowly to look for the backlink in mentions which will allow you use the backlinks filter. It's not a filter though which means your query can find mentions without the target URL if the keyword conditions are met.
And press Next.
Target URL


For example, if you fill in example.com, we're going to count and mark all articles that include the example.com URL. That includes links subdomain.example.com and example.com/pricing.
If you fill in subdomain.example.com, we're going to count all articles that include the subdomain.example.com. That includes links subdomain.example.com/pricing but not example.com/pricing.
Search configuration
Next, configure your search with the available filters. Prowly will look for any mentions on the Internet that match your search conditions. A mention may be a news article, blog post or a thread in a discussion group.
All of these keywords
This section allows you to add the base filter to your search. You can provide multiple keywords or phrases and specify their type to get relevant results. All keywords that you add here must be included in the article. When adding a keyword or phrase, you can use operators:
Is exactly - this operator will tell Prowly to search for the exact combination of words or phrases you provide.
Contains - this operator will tell Prowly to search for keywords or phrases you provide in near proximity to each other.
Next, you can also choose between title, text or all options to search in specific areas of an article.
One of these keywords
This section allows you to add a set of optional keywords or phrases. You can provide multiple optional keywords and Prowly will use them to find mentions where at least one of them is present in the text with the required keywords.
If you provide just one optional keyword, it will actually act as a required keyword as it will need to be present in an article.
None of these keywords
The opposite to All of these keywords. Use this section to specify keywords or phrases that you don't want to have in mentions.
Filters
Apart from keywords, you can use the following filters to refine your search:
You'll be able to narrow the search results down even further with other filters available in the Mention Browser. You can access the Mention Browser as soon as you save your query. You can read more about filters in this article.
Search preview
You can see an estimate and sample of mentions Media Monitoring can find with the conditions set: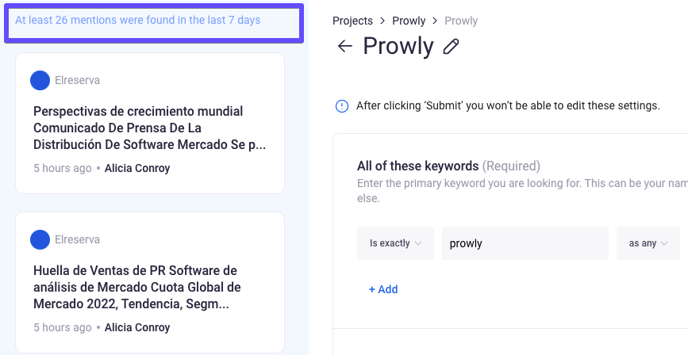 The estimate and the sample doesn't use your subscription limits.
Save your search
When you're done with setting keywords and/or filters, you can go ahead and save your search. Click Submit to save it. Prowly will gather all of the mentions it can find on the Internet. The monitoring is constantly on and, as soon as any mention matching the conditions is found, you'll find it in the dashboard. What's more, the moment you save your search, we'll also look for articles published in the past. Depending on your plan, we'll look for mentions from the last 7 or 30 days and onwards. Trial accounts will include results from the last 3 days and up to 120 mentions only.
The search will appear on your project's main page.
You can have multiple search queries and projects depending on your subscription plan.
Browse mentions
On the Project page, you can see the latest mentions on the right hand side. Click on a search query to look into all mentions found so far. Read more about it in this article. The mentions that were found will stay under your project and query unless you remove them manually (individual mentions or entire query).