You can now effortlessly create professional and engaging press releases that captivate your audience and enhance your company's visibility.
To explore our new feature, navigate to Content -> Press releases -> Create press release, then choose the third option: "Draft with AI":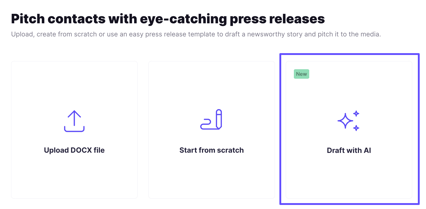 A pop-up window will appear, where you need to fill in some details and include your story's main prompts. First, start with choosing a type of your press release. You can decide between CSR (Company Social Responsibility), New hire, Product launch, Announcements, Survey or report or Other. This will help AI decide the press release's general feel and style.

Click "Next step". Prowly will now ask you to choose the target audience for your release. You can choose between Industry players, Investors, General public, Local communities, Customer or Add own audience by clicking and typing on the button. Based on that input AI will adjust the follow up questions and final messaging accordingly.

The next step is to choose the language of the press release. You can decide between American English, British English, Polski, Español, Français, Deutsch and Português:

Now it's time to fill in the press release description by typing out three key messages. It is what makes press releases drafted by Prowly stand out! We will structure the text and ask you additional questions based on these messages so that the whole press release is well-balanced, cohesive and captures readers' attention.
What are key messages? Key messages are main points that capture the most important information or ideas you want to convey to your audience. They are messages that you want your audience to remember and take away from a communication.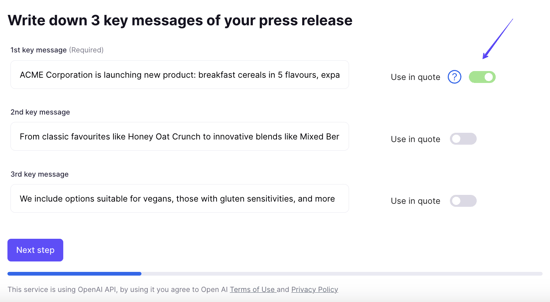 Fill in your key messages and mark "Use in quote" if you want to draft a quote in the press release containing this message.
Based on your input, you'll then receive several follow-up questions to improve the accuracy and quality of your press release content. Try to answer as many of them as possible to ensure that your final product is best-suited for your needs.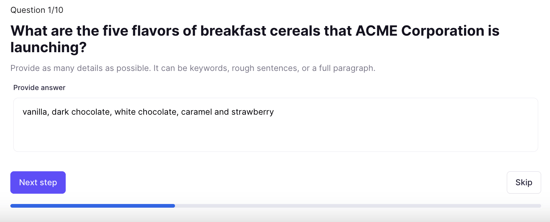 If you need to, you can pass some questions by clicking "Skip", but for best results, we recommend answering all of them.
You're almost there! All that's left is to choose the tone of voice of the communication, so how would you like to sound for your audience. Do you want to come off as more professional or maybe friendly? It's up to you to decide!

Click "Generate press release", wait a couple of seconds, and your new, fully AI-drafted press release is here! Check it out, freely modify any part of it if needed, and once it's ready, publish it and enjoy the extra time you saved with Prowly!