The VIP Zone is a dedicated location within your Brand Journal where you can publish exclusive materials accessible to a restricted audience. You can use it to reward some of your readers by giving them access to special content or using this feature for internal communication.
How to create a VIP Zone and invite VIP readers
Enter the Brand Journals tool and choose a press room
Click the three dots icon on the press release tile: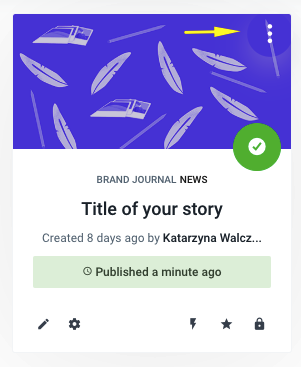 3. Choose the vip option: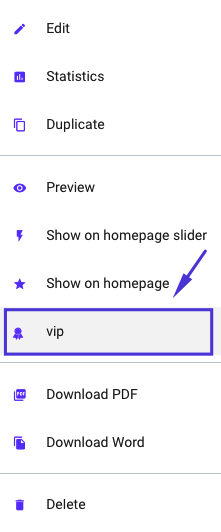 Now you can invite readers to your VIP Zone:
4. On the left navigation menu enter the Subscribers tab: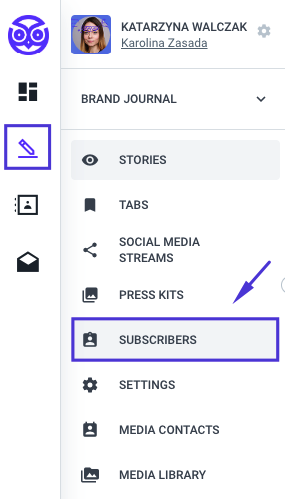 5. Then send invitations to chosen journalists by clicking the Add VIP button:


6. If you add an email address available on your Subscribers list, you will add a journalist who previously signed up to the newsletter. When adding a new email address, you will automatically create a new contact in your database.

Readers who don't have a Prowly VIP account will have to create one to view your VIP content. They will receive an automatic email with an invitation and a link to set up their Prowly VIP account to see VIP content.
As soon as your VIP invitation is sent, the contact in your Subscribers tab will have an Invited status. As soon as the invite is approved, the status changes to Accepted.

How to cancel VIP access from a reader:
Enter the Subscribers tab
Choose the Show VIPs option
Find a journalist you want to delete from the VIP Zone
Click the three dots icon next to the contact
Choose Remove from VIP list.

How to move a VIP reader to my database in Audience
Enter the Subscribers tab
Select the Show VIPs option
Choose the reader you would like to add to your database in the Audience
Click on the three dots icon and select Move to Audience
It is worth tagging the contact so that you know were it came from.
How do journalists request VIP access?
Your readers can request VIP Zone access by clicking on the padlock icon located in the top-right corner of your press room. If there is no padlock icon visible in the Brand Journal, it means that there's no exclusive content available yet.
As soon as a journalist sends a request for VIP access, the owner of the Prowly account will receive an email asking him to confirm the creation of a VIP account. With this account, media representatives will be able to log into all the VIP Zones. They will receive a notification when their request has been accepted. The VIP function is helpful in the execution of all promotional activities with embargo restrictions, similar to the padlock function described in this article.