Send personalized messages at scale following up based on recipients' engagement
It's a great feeling when you hit "Send" after crafting a killer email pitch, selecting just the right contacts to receive it, and putting it all together in an email campaign that you're sure is going to impress.
In reality, you've just sent out the first line in a dialogue that's just getting started. Having a plan for following up on your first email is a vital part of any PR outreach strategy and keeping those dialogues headed in the right direction is key to getting the coverage you want.
Create a follow-up
To create a follow-up in Prowly, go to Emails and choose an email you wish to follow up on from the list of all your messages sent.

Click the Create follow-up button right next to the date it was sent.
Choose the recipients of your follow-up message
When you click the Create follow-up button, you will be able to see a list of predefined options to help you choose the recipients of your follow-up based on their engagement with your first email: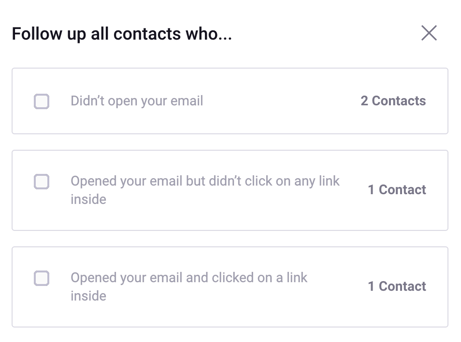 Choose what option works for you best and click Create follow-up. This will automatically include selected contacts as recipients. However, the list of recipients is not closed - you'll be able to customise it further as the next step. You can read more about adding recipients and optimising your list in this article. Click Next when you're done.
Congrats, you have your recipient list ready! Now it's time to write your follow-up message.
Write a follow-up message
Depending on how your recipients reacted to the original message, you can write different follow-up emails using more precise language suited to the situation. For example, you can craft one message for those who never saw your first one, another for those who did, and another for anyone who clicked on a link inside it.
Important note - you can't edit the From field or the Subject line - this helps to keep your follow-up messages in the same email thread. Move to the next step when you're done.
You're almost there. Make sure to review your follow-up email before you hit Send. You can read more above resolving issues on the Review step of sending the email in this article. Move to the next step when you're done to send the email immediately or schedule it.
All done! Once the follow-up email is sent out, it will appear in the list of emails with the appropriate status. You can preview it, check its performance statistics, and see the recipient list once again.

Remember to give your email recipients some space before you follow up.
A happy medium followed by many PR pros is three days from the first media pitch to the follow-up email. It's a good balance between rushing things with unreasonable expectations and waiting too long before being forgotten under a mountain of new emails. Sending any more than two follow-ups to your original PR pitch email becomes counterproductive in a couple of ways. Read more about following up on your media pitch the right way.