Even with a proper PR CRM, you still need to organize your contacts to be able to build and foster your media relationships. Here's how.
In order to see all your contacts, go to Contacts > My Contacts in the main menu.
The contacts management menu is located above the list of contacts and looks like this: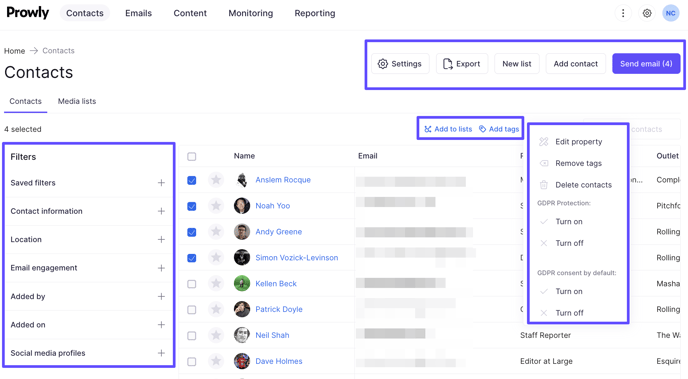 1. By clicking the checkbox to the left of the columns, you can select all contacts displayed on a single site
A message about the number of selected contacts will pop up under the menu. There will be also underlined text allowing you to select every contact from the whole database:

2. By clicking a column name like Role or Outlet you can sort contacts in ascending or descending order
3. Under the Edit columns button, you can configure what your contact list will look like, i.e. choose what kind of data will be presented in columns
4. With single or multiple contacts selected, you can export them, add them to lists and indicate by tags. Under the More actions button, you can remove tags from selected contacts or delete contacts completely, as well as use GDPR-related options.
5. The search bar lets you find specific journalists by entering an email address, name, surname, tag, or outlet.
6. The Add Contact button located at the top-right corner allows you to add new media representatives to your contacts. The New List button, of course, creates a new static list of media contacts. All created lists can be found under the Media Lists button in the top navigation menu:



7. The Filter menu on the left lets you select filters and extract only these contacts which meet concrete conditions in real-time. You can create combinations of parameters with an AND or OR determiner - the first one qualifies contacts that meet all conditions, the second one filters out contacts that meet at least one chosen parameter.
8. With the Save button you can save combinations of filters for future usage. Then, they are all saved under Saved Filters and can be treated as dynamic lists - lists that change automatically when contacts start or stop to meet filter conditions, such as Open rate is greater than 30%.
What is the difference between Lists and Filters?
The scope of contacts aggregated as a List never changes automatically. You need to group journalists in particular Lists manually and manually remove them from Lists, too. When you save filter combinations in Saved Filters, you select precise criteria that determine whether a specific contact is in or out of the scope.
For example, thanks to the parameter Country is exactly USA all new contacts with the USA value in the Country field will automatically be included in the saved filter. Or if you set the criteria Open Rate is greater than 50%, the saved filter will dynamically (i.e. without your interference) include and exclude contacts that meet or fail to meet that requirements.
9. To optimize the time spent on organizing your contacts, you can also use Tags and set their colors for all of them. Read more about tagging in a separate article here.