In order to see the whole database, enter the Audience module by clicking the address book icon on the left navigation bar of application:

On every site, you can display 25, 50 or 100 contacts, depending on your current needs. A number of contacts being displayed on a single site you can set in the bottom right corner of the window:

Contacts management menu is located over the list of contacts and looks like this:



By clicking a checkbox on the left side from Sort by parameter you can select all contacts displayed on a single site
In a consequence, the message about the number of selected contacts will pop up under the menu. There will be also underlined text allowing you to select every contact from the whole database, all groups and segments:

2. With Sort by parameter you can segregate contacts by:
Name
Created at
Email
Role
Outlet
Personalized greetings
3. With Order by you can segregate their values by:


4. Using columns icon, you can configure how your database will look like, i.e. choose what kind of data will be presented in columns: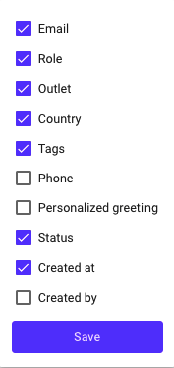 5. After checking more than one contact, you can also make massive actions on them. Just click the Actions button and choose what you need:


If you will press Actions when being in a group, Remove from group option will appear on the list. Legal GDPR-related options are dedicated to polish users.
6. With two following buttons you can refresh your database and display all contacts:

7. The search bar lets you find concrete journalist by entering his email address, name, surname, tag or outlet.
8. Create contacts button naturally allows to add new media representatives to the database.