Use our PR reports feature to show off relevant, comprehensive data with customisable and interactive coverage reports.
Create a new report
In order to create a PR report, click on Reports in our navigation menu to start.
Firstly, you'll be asked to create a brand for which you'll be able to create reports. Brands are useful if you operate as an agency and have multiple clients for whom you'll be creating reports. You can have one for each one of your clients and this way you can keep your reports organised. Alternatively, you can just put your company name here.
As soon as this is done, you can go ahead and start building your report - click the Create first report button or click on the brand name and then use the Create new report button. Before you start working on your report, it's recommended to go through brand settings. You can read more about it in this article.
Report editor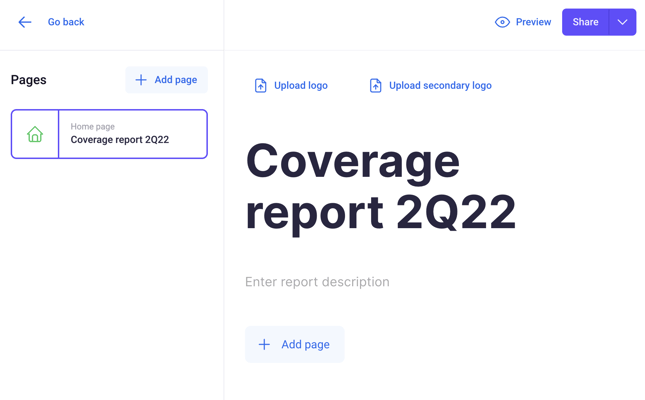 You can add multiple pages to your report but there can be only one home page.
Home page
When you create a new report, you're going to see the home page of your new report. You can customise the title and description, you can upload logos (you can add two - i.e. yours and your client's) and if you've added any logos in brand settings, they will be added to the report automatically. Finally, you can add other pages to the report by clicking the Add page button. There will be several types of pages to choose from (described below). As soon as you add other pages to the report, they will be included in a form of a summary on the title page as well. home
Coverage page
This page is to present entire or just the most important coverage achieved through PR activities. Paste links to online articles, social media posts (e.g. Twitter, TikTok, Facebook, YouTube videos) in the field below or import links from an XLS or XLSX file. You may also use Media Monitoring to automate the process. All clippings you add will be evaluated and multiple metrics are going to be available for you to present on a Metrics page.
You may also add offline coverage. This can be anything from a magazine article to a newspaper article. To do this, add a Coverage page, then click 'Add coverage', and last, select 'Upload offline coverage'. When adding the coverage, you can then add an image of the article in JPG, PNG, and PDF files. Moreover, PR Reports is automatically integrated with our Media Database. This means when you are adding an author or publisher/outlet to your clipping, it will search for those in our database.
How is PR Reports and Media Monitoring integrated?
PR Reports and Media Monitoring integration extends into the creation of coverage pages -- both online and offline coverage. With offline coverage, this enables you to add author names and media outlets that are searched directly from our database.
Because PR Reports and Media Monitoring are integrated, you can add mentions from the Media Monitoring module directly into the report without copying and pasting links.
If there is any coverage you wish to highlight, we recommend adding at least two coverage pages. The first one with the most important coverage, and other with the remaining relevant coverage. You can add the same clippings on many pages.
There's a limit of how many new clippings you add. The limit depends on your PR Reports subscription plan and the limits reset every month.
Metrics page
This page allows you to present various metrics on articles and social media content. The metrics you can add for your coverage include:
Online pieces of coverage
Offline pieces of coverage
Total estimated views
Average sentiment
Average domain authority
Total AVE
Total number of backlinks
They are calculated automatically by our algorithms used in Media Monitoring and you can read more about the metrics in this article.
For social media content the metric widgets let you display a total number of links or a total for each one of the supported social media platforms: Twitter, Instagram, LinkedIn, Facebook YouTube, TikTok.
Performance page
This page gives you to a way to display statistics of your email pitches. There are two approaches you can take to display email statistics. First of all, you can select multiple emails from your account and the statistics displayed on the Performance page are going to be averaged out. The second approach is to just select one email per page and this way you're going to be able to show statistics of individual emails.
Customise metric widgets
All of the widgets you add to Metrics and Performance pages are, by default, calculated by our algorithms. However, if you need to overwrite the values with your own, simply edit a widget by using the Edit option under the dotted menu in the corner: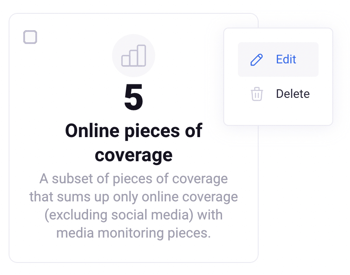 You can overwrite the value and then update the title and description of the widget. You can always restore the default values that have been overwritten.
Publish and share your report
When your report is ready, you can share it with selected recipients in a desired format. Click the Share button in the top-right corner to proceed.
You can choose if you would like to publish your report online under a dedicated URL (no Prowly branding) or generate and download a file in an Excel, PDF or PPT format.
Should you choose to publish it online, your report can be password-protected if necessary. If you use the link after the report is published, you're going to get the report which can be easily turned into a presentation (using the Slideshow option).
Once you publish your report online, the files (PPT, PDF and Excel) will be also generated automatically and will be made available for you to download.
Finally, you can also share your report via email. Click on the right side of the Share button to access the Send via email feature. You can send it to 5 recipients at a time and the email is going to include some general information and metrics from the report.