Create informative, attention-grabbing emails and save time with Prowly's AI feature.
Preparing your sent-out has never been easier! All you need to draft an email with AI is a ready press release, which will serve as the basis for the email content.
You can also effortlessly draft your press release with AI using Prowly! Check this article to learn more.
Once a press release is ready, go to the Emails module, click "New Email", and proceed with the email creation. Add your desired recipients, go to the next step, "Write", and click on "Draft with AI" on the right side of the screen.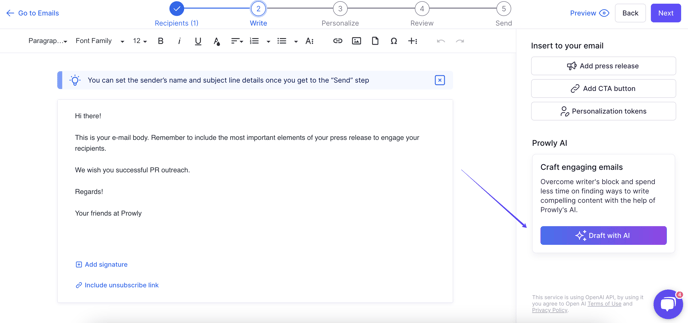 The content of the email drafted with Prowly needs to be based on a ready press release, so choose the preferred one from the dropdown list available and hit "Generate":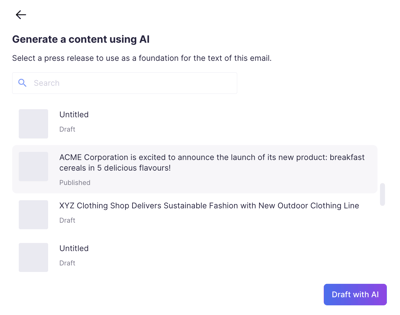 Wait a couple of seconds and enjoy your freshly drafted email! You can freely edit it and customize it further.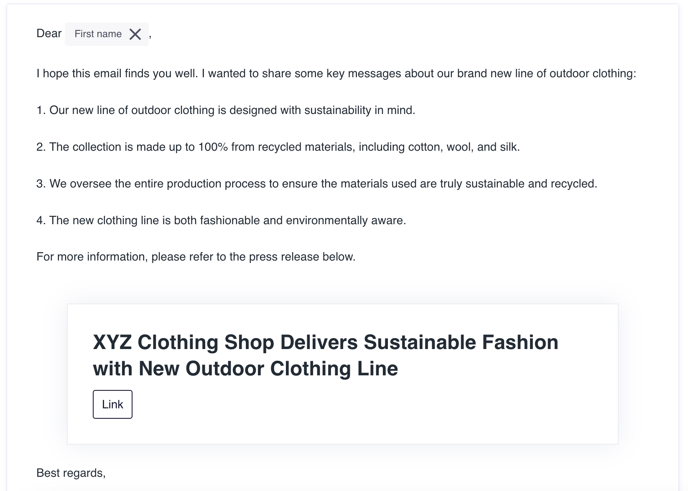 All emails drafted with Prowly have a similar structure - a personalized greeting, introduction, four main key messages, the embedded press release and a summary.
You can also modify the email using our built-in AI tools. Choose "Make shorter" or "Make longer" from the side menu to have AI adjust the length of the email. If you dislike the content, you can ask AI to "Try again" and start over. Once you're happy with the result, you can click "Done".